Health Savings Account (HSA)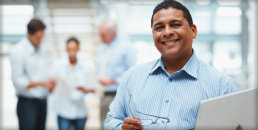 Questions?
Provide your employees with the benefits they deserve without adding on a lot of administrative burden. An HSA provides employees with high deductible health plans the ability to cover qualified medical expenses.
Any contributions you or the employee makes are tax deductible. Plus, they earn competitive interest along the way. Attract and retain solid employees by providing them the coverage they deserve.
Summary

Employee Benefits

Greater personal control over healthcare management and expenses

Prepare for current and future qualified medical expenses

Earn competitive interest on entire balance

Make tax-free withdrawals for qualified medical expenses*

Available at no additional cost

Unused funds remain in account

Keep your HSA in your name, regardless of job changes

$200 minimum deposit to open HSA Interest Checking

$100 minimum deposit to open HSA Regular Savings

Federally insured by FDIC

Company Benefits

Provide great benefit to employees

Helps retain and attract good employees

Contributions are tax deductible*

Reduced insurance premiums

Little administrative burden

*When used for qualified medical expenses. Consult a tax advisor

Eligibility

Eligible individuals covered under high-deductible health plans may open an HSA and use the money tax-free (including earnings) to pay for qualified medical expenses.




To be eligible:

You must be covered by a high deductible health plan (HDHP) on the first day of a month to qualify for eligibility for that month
You must have a minimum deductible of $1,250 for individuals or $2,500 for families.
Your annual out-of-pocket expenses (including deductibles and co-pays) cannot exceed $6,350 for individuals or $12,700 for families.
Maximum contribution cannot exceed $3,300 for individuals and $6,550 for families.
A person age 55 or older may make an additional $1,000 in "catch-up" contributions.
You cannot be covered by any other health plan that is not an HDHP.
You cannot be enrolled in Medicare.
You cannot be claimed as a dependent on someone else's tax return.




There are no eligibility restrictions regarding income level and there is no requirement of earned income to make contributions.