Debit Card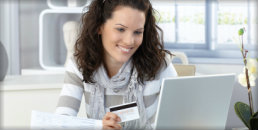 Make direct deductions from your account balance and additions to your life with the added purchasing power of a MasterCard® debit card. With a debit card in tow, you can make purchases online or in-store virtually anywhere around the globe.
Debit cards are safer than carrying cash and more readily accepted than checks. The very same card is used to make ATM withdrawals. One tiny piece of plastic, mountains of versatility.
Summary

Free for Kasasa Cash,® Kasasa Tunes,® Kasasa Giving,® Kasasa Cash Back® and Platinum level Pioneer Club account holders; low $12.00 fee otherwise

No additional charges or interest owed

Convenient access to your account balance

Make purchases anytime, virtually anywhere

Receive an accurate record of transactions made

Withdraw funds or make account transfers from ATMs

Safer than carrying cash

More universally accepted than checks

Eliminate the cost of purchasing checks and paper waste

Easily replaced if lost or stolen




Secure Code

Easily establish a secure code in a matter of minutes to add that much more security to your debit card transactions and to eliminate the chance for fraudulent activity. Sign up for your code today.