Kasasa 360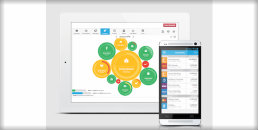 Questions?
No more logging into multiple interfaces with all different passwords to manage your finances. Kasasa 360® removes that hassle and replaces it with the ultimate financial control.
Access deposit accounts, credit cards, loans, investments, and more—all in one convenient place. You even gain a handy budget customization tool, keeping you right on track to meet spending goals.
Experience a NEW way to bank that puts you first.
Don't forget to check out our other Kasasa products and learn how you can take control of your financial power.
Summary

Free, fast, and easy to use 24/7

All finances can be managed in one convenient place

Checking and savings accounts

Credit cards, loans, and mortgages

Investments, and more

Saves time versus logging on to several different sites

Track spending over all accounts and cards

Simple budget customization tools

Custom features to help meet spending goals

Set up customized alerts to stay on track and detect fraud