Remote Deposit Capture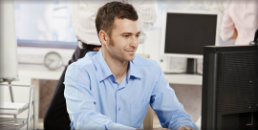 With Remote Deposit Capture, depositing checks is as simple as scanning from your office. Rather than tying up staff for every consumer check, commercial check, cashier's check, or money order deposited, remote deposit saves you valuable time and resources.
Plus, the ability to make anytime deposits also helps you receive funds faster. Handle a number of business needs remotely. No middleman necessary.
Summary

Scan checks from your business location

Make bank deposits electronically

Review images of captured items and generate reports

Build multiple users and maintain access options

Faster availability of funds

No need to fill out deposit slips

Fewer errors in accounting by reducing human error

Enhanced security and fraud protection

Enjoy a later daily processing deadline

Increase employee productivity; reduce bank trips and time away from the office

Associated fees:*

Setup - $500.00

Purchase scanner(s) – prices vary

Scanner Monthly Maintenance - $60.00 (minimum/per scanner)

Per Item Fee - $0.05

Please contact a Pioneer Bank location for additional information and necessary agreements.