Pioneer Bank has rebranded to modernize and evolve our company's image to match our drive and dedication to your financial success and well-being. It's a fresh, bright approach.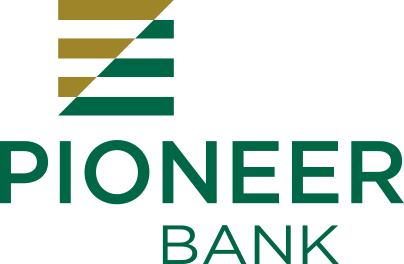 We celebrate our strong roots in the region's rich, agricultural history with a progressive, powerful new logo and brand that complements our commitment to our customers and communities. The logo's movement speaks to our ceaseless passion for providing proactive, innovative services and solutions. Its boldness reinforces the strength and reliability that comes with the financial well-being our valued customers and clients experience at Pioneer Bank. Read Full Release

for the speed of life / to speed your success / to speed your growth.
We may look different but be assured, we are still the same bank that is deeply invested in the prosperity of our communities. Our experience and commitment is unmatched, powered by our resourcefulness in finding you customized solutionsand valuable tools for your personal banking, business banking and agribusiness banking success. For over 100 years, we have put our commitment to you and the vitality of our communities first. This is still the foundation of our company and its future.
Are there any changes to products and services?
Good news, there are no changes to any of the products or services that we provide to you. We are not changing our approach, just the way we look. We want to celebrate our 100+ year history in southern Minnesota with a progressive, powerful brand that complements our commitment to you. We do hope you find it exciting in the coming months to see more of our fresh new look that matches our innovative, responsive nature.
Please feel free to stop in at one of our locations and visit with us.